Chinese smartphone maker Vivo is also joining the 'notch' bandwagon with its upcoming Vivo V9, which is scheduled to roll out in India this March 27.
YOU MIGHT LIKE TO READ: Vivo showcases Apex at MWC 2018 – a concept of a truly bezel-less smartphone
Meanwhile, the alleged photos of the said unit below was leaked by a Malaysian tech website, which gives us more detailed look about Vivo's upcoming 'notched' handset, confirming what we've seen in Vivo's promotional materials.
And although the focus of most news is on the notch, the leaks apparently confirmed one another thing – the presence of a 3.5mm headphone jack, just beside the microphone and the microUSB port.
Seeing from the photos, the Vivo V9 might not use a hybrid SIM card / micro SD slot, which is a yes for us. There's also an iPhone-X like dual camera setup at the back, with the LED flash below the camera lenses makes it a little bit different. A fingerprint sensor is also placed neatly at the back.
YOU MIGHT LIKE TO READ: STOP USING HYBRID SIM CARD SLOTS
On the front, the V9 is rumored to have a 24-megapixel front camera which is noticeably housed in the notch, where the earpiece, and other sensors share as well.
Specifications and Features
It's still unclear what the V9 will offer in terms of specifications and hardware inside, so we'll continue to keep our eyes on until the launch of this handset sometime soon.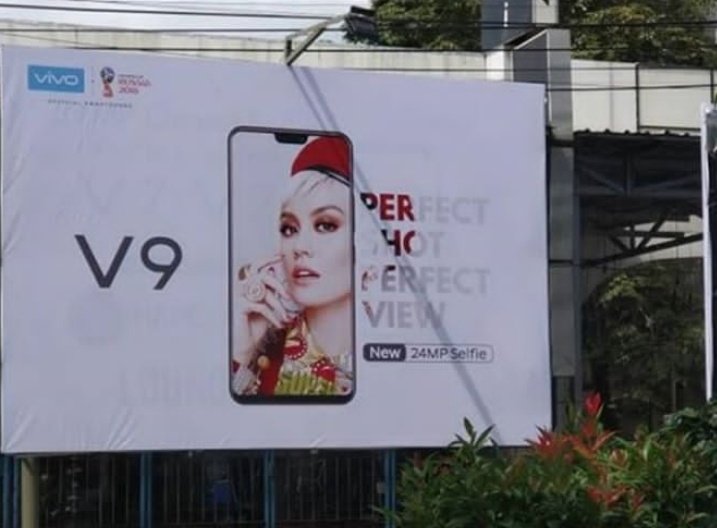 Previously reported by GizmoChina, a billboard of the Vivo V9 is spotted somewhere in India, showing the new feature which says 'Perfect Shot Perfect View', and under that is a new 24MP Selfie keyword – noting the camera in the front would have a 24MP sensor, that can give that perfect shot.
Apparently, we're informed that the Vivo V9 would be available in the Philippines and other key markets somewhere in April. Stay tuned!